Kharl Prado
October 15, 2010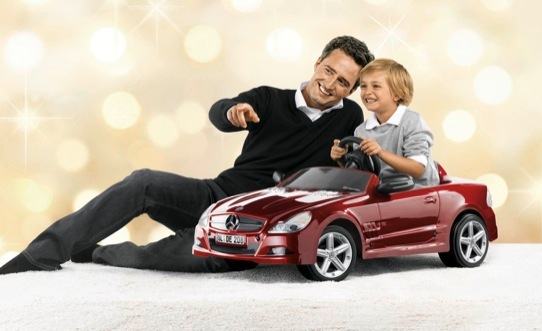 Still wondering what to give to your special someone as a gift this Christmas? Well then, if he or she is a fan of Mercedes-Benz, then it's only proper to give an item that bears the mark of the manufacturer. Put simply, what better gift than an item from Mercedes-Benz's Christmas Collection. That would make for one heck of a display under your decorated pine tree.
So what products are on offer? Let's see… there are stainless steel watches for men, and jewelry timepieces for the ladies. The women's watches come with interchangeable straps, which is if she's the type who keeps having different moods. Then there are elegant cufflinks that have been polished with an extremely high-gloss finish, and a 3D inset motiff. For those of you who are into golf, there's a golf bag that's also a rain cover, featuring holders for a putter umbrella and tees.
Another item in the collection which just begs for attention is a black shoulder bag that features cowhide shoulder straps laced with parts in golden finish, while a purple knitted cashmere scarf makes for another tempting choice. For kids (of all ages), a couple of Mercedes-Benz Formula 1 racing car models are irresistable, while a pedal/battery-driven SL Roadster will totally catch your kid's attention.