Michael C.
October 19, 2010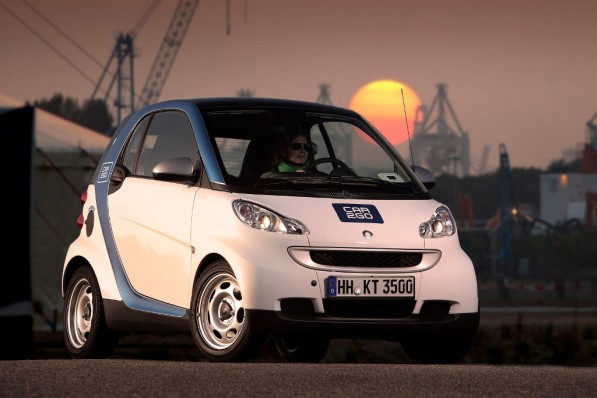 According to the statement of Daimler, Hamburg is the primary city in which the car2go is being presented as a part of their intended market launch. The launch is set towards the end of the first quarter in 2011, having 300 vehicles to start with. Europcar, the latest partner of car2go, will have a majority 75-percent stake in this shared project. The starting price for renting the car2go in Hamburg will be 29 euro cents a minute or at least 14.90 euros per hour. All of this would include the car's fuel, insurance, mileage covered and taxes. The rate for parking in the mentioned garages is already covered in the rental fee.
One of the highlight of the smart car2go edition is the latest central control panel with a big, 6.5 inch touch sensitive screen. Its solar roof which is a regular feature, provides an output of 100 Watt power. This solar energy produced supplies power to the vehicle's telematics and also to constantly charge the auto's battery. This lets the alternator to be decoupled while using the car for an optimum fuel consumption. The smart car2go model that will be utilized in Hamburg includes a consumption-optimized petrol engine, automatic start/stop system, a newly modified telematics generation and a solar roof.
The automobile houses its keys and a maximum of four chip cards, to be used for refueling and going into multi-story car parks. Also, if the car is parked under the sun, solar energy is used to run the ventilation system which can lessen the temperature inside the car by up to maximum of 18 degrees Celcius.
The areas in which the services of the car2go vehicles can be utilized either spontaneously or by advanced scheduling will begin with Hamburg's central zone first. The need for individual mobility in this area is much larger than most of the cities, while the smart cars make the most advantageous use of the available parking areas.