Kharl Prado
September 16, 2010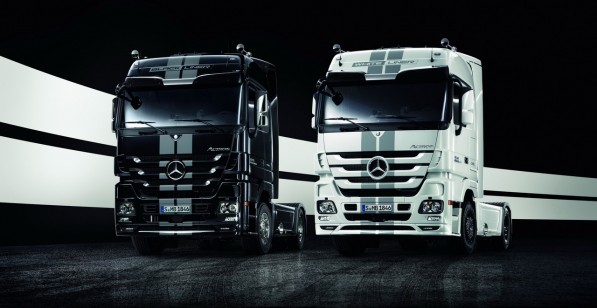 Daimler AG will once again grace this year's IAA Commercial Vehicles show bringing with them their whole list of groundbreaking innovations. The show however, pegged to start on September 23 in Hanover, will be preceded by the unveiling of Mercedes-Benz's truck highlights on a special issue of the Mercedes-Benz Transport magazine. So you'll have the chance to eyeball images of the new Atego and Axor, as well as photos of the Actros Limited Edition Black Liner and White Liner.
The pair of Actros variants will be making their very first public appearance at the IAA, so you can bet that it's going to be very special. Why? Because only 500 of these will be made.
If you'd like, you can even download screensavers at the website. The online magazine will have so many visual elements—video reports, photo galleries and animated informative graphics to give you detailed insights on the advanced automotive technologies at work in every Mercedes-Benz vehicle.
Technologies such as the all-new Active Brake Assist 2 can be explored, as well as discover the excellent functionality of the Atego BlueTec Hybrid, which proved its unmatched durability under extremely harsh conditions at the Development and Testing Centre in Worth.
If you'd like more details, you can visit the official site at www.mercedes-benz.com/iaa.