Kharl Prado
September 29, 2010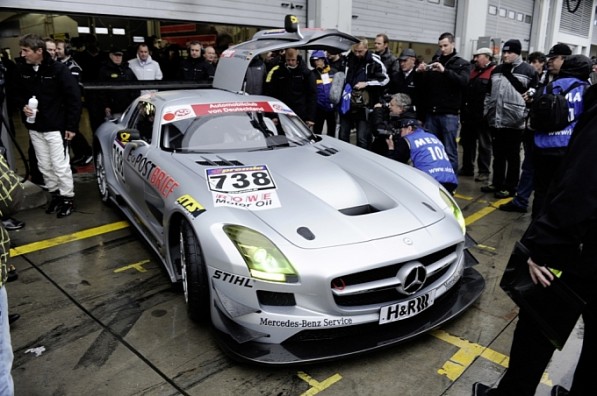 Kudos to Frikadelli Racing Team for sourcing this exclusive video of the Mercedes-Benz SLS AMG GT3 crashing in its track debut. Not that we're too happy about the GT3 meeting tragedy. In fact, it's heartbreaking to see something so full of potential screwing up on the track at high speed. You can't help but blame the driver, especially once you're caught in fascination by the GT3's unique beauty and finesse.
Frikadella's onboard camera caught the action while rolling on their Porsche racecar behind the GT3. The Gullwing was being driven by five-time DTM champion-now AMG brand ambassador Bernd Schneider when it crashed into Christian Hohenadel's Corvette on the very first lap of the race. The consequence? Both of them had to quit the race prematurely. Talk about making a grand exit.
Three hours and eight minutes later, it was all over. Many accidents followed suit after the Gullwing met with the Corvette. By then, Bernd was three laps behind in 91st place.
The race was scheduled to run for around four hours as part of the VLN Nurburgring Endurance Championship. It was also part and parcel of the GT3's development and testing program, which includes track competition, strategizing and endurance.
Well then, enough chit-chat. Watch the video yourself for full effect. Hit 2:20 to witness all the bone-crushing action.