Kharl Prado
September 13, 2010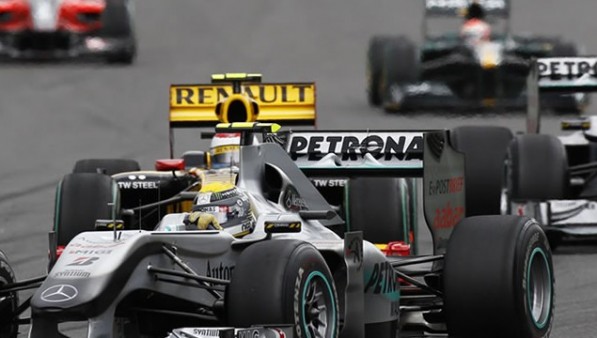 Despite not achieving podium, the pair of Mercedes GP Petronas drivers Nico Rosberg and Michael Schumacher were able to deposit double points into their score cards at the Italian Grand Prix in Monza, having crossed the finish line in fifth and ninth spots respectively. And yes, if you're wondering, Nico is still consistently beating his wing leader to the line.
Nico was fighting vehemently with late-braking Sebastian Vettel of Red Bull towards the checkered flag but was unable to win fourth place. Thus, he had to settle for fifth which according to him 'was an ok result'. Schumi, on the other hand, had a very clean start all the way to the finish line. But despite putting up a good fight against everyone, he had to surrender two positions to Sebastian and Mark who kept nudging from behind. Still, according to the seven-time world champion, Monza was overall a decent race with double-point credits nonetheless.
Team boss Ross Brawn meanwhile believes that their double-double finish in Monza is a sign of maturity for both his drivers. And while they failed to capture podium, still they put up a good fight to be one of the strongest teams behind the frontrunners. Petronas Technical Director Norbert Haug seems to think so as well, relaying his appreciation for the twin's efforts despite the searing track temperatures in Monza that reached 37°C at some point.