Kharl Prado
September 30, 2010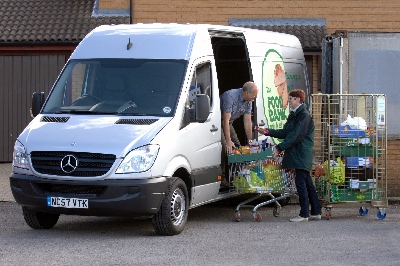 Have a heart for the poor? Donate food items this October 1 and 2 at the Midsummer Place Shopping Center at Milton Keynes. Mercedes-Benz UK will be on site to support the food collection event dubbed The Food Bank.
The event is a basic system of collecting, organizing and distributing food donations to people who have been thrown off the economic ladder and living lives in poverty due to unfortunate events such as death in the family, sickness, over expenditure or even theft. The event is important because it makes up for lack of support or help from national government and social care infrastructure by giving out food until these agencies are able to come.
Mercedes-Benz started supporting the charity movement way back in December last year. It holds its own collections twice a year at their headquarters in Tongwell. Back in March, Mercedes-Benz used a Sprinter 311 CDI  to facilitate distribution of food items and reached as far the outskirts of Milton Keynes. Now, the company will once again use a Vito which will serve as a mobile collection point for The Food Bank. Mercedes-Benz UK will also be sending staff volunteers in the Vito to assist on October 1 and 2.
So if you've got a heart for the poor, spread the word. Or even better, be there at Milton Keynes with your own donations.