Kharl Prado
September 25, 2010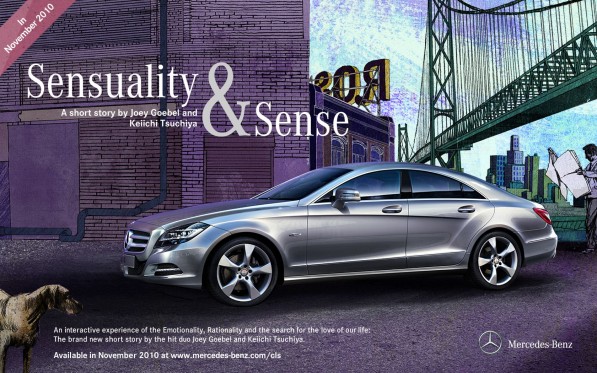 In love with the new Mercedes-Benz CLS? Then you've just got to check out the company's latest web special featuring the all-new CLS. It's sure to tickle your artsy bones with its graphic-novel appearance, but it won't require you to flip pages as do most websites that feature vectoring and flash animations.
If you're a fan of comics, then you'll definitely love the presentation—making use of a vintage backdrop that's sort of like what you'll see in old cartoons. Although the main protagonist is male, you'll notice that the colors used appeal more on the feminine side. Which makes a lot of sense, considering the two words that would best describe the new CLS are 'sensuality' and 'sense'.
What's really exciting about the new web special is that it apart from the CLS video and the author's story illustration, you could enter your own personal information and have the story retold with you as the main star. Now, isn't that something? You could even download a personalized wallpaper of the CLS with your name on it. The only catch is that for you to witness the entire story, you'll have to wait until November. Talk about creating anticipation.
If we were you, we'd check out the new Mercedes-Benz CLS mini-site