Kharl Prado
September 22, 2010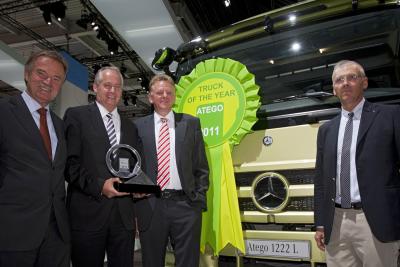 Which is the International Motor Show (IAA) Commercial Vehicle's Truck of the Year 2011? None other than the Mercedes-Benz Atego of course. This 12-ton heap of German engineering perfection bagged the most votes for it to win the prestigious award of being crowned the big daddy of all commercial vehicles. Around 23 automotive journalists from all over the world were on hand to witness the awarding ceremony and saw the Atego win in all its splendor.
The Atego is an extremely versatile truck for both short and long-distance services. The series-built Atego 1222 EEV BlueTec Hybrid is even better. Apart from pioneering hybrid technology into commercial vehicles, it now offers dependable yet high-quality short-distance commercial capabilities that used to be exclusive to long-distance truckers.
In case you're wondering why the Atego won, let's just say it struck the perfect balance of economy, emission reduction, safety, drivability and sheer comfort. The 127 points that it collected during the motor show was enough to put it into the top spot, compared to the second and third placers which had 82 and 45 points respectively.
If you're still at a loss as to what's so special about the hybrid Atego, let's just say it has the capability to recycle recovered braking energy into usable power for its lithium ions. Sounds like Formula 1 KERS technology? Definitely.