Michael C.
September 11, 2010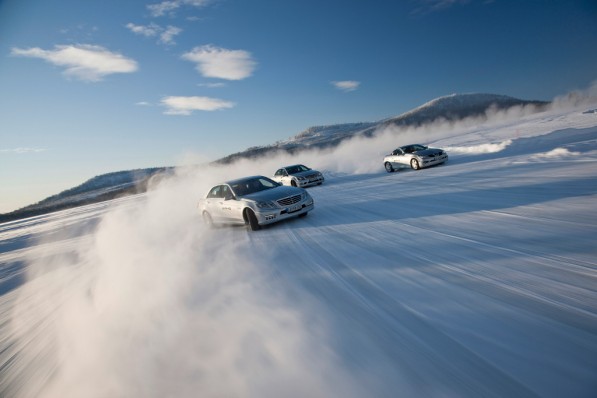 Mercedes-Benz released report regarding the beginning of the 2010-2011 edition of the three year old AMG Driving Academy, a program the which includes five courses and driving cars to the edge in order experience the true nature of an AMG vehicle.
As with the old program, the new one has five different courses: Emotion, Basic, Pro and Masters. The courses would take place in famous race tracks such as the Nurburgring and Spa-Francorchamps in Europe and Laguna Seca and Road Atlanta in the U.S.
The Emotion course, with 32 participants, will take the drivers and AMG-supplied vehicles on few public paths, like the AMG plant in Affalterbach and participate in the DTM racing weekend or the Bregenz Festival. For this programs, the price begins at EUR290 ($370).
The Basic course is geared at establishing a safe and confident reaction behind the wheel. It showcases training sessions facilitated by instructors. The driving lessons will be held on the Hockenheimring, the Nurburgring Grand Prix at the LuK Driving Center in Baden-Baden. Only ten fortunate people will be accepted, though they first have to pay the Eur990 or more ($1,260 fee).
The third program, Advanced, targets to aid in bringing to the surface the racing driver in all of us, by cultivating driving skills and sporty driving. The courses will be held at race circuits like Spa-Francorchamps, Imola, Hockenheimring, Le Castellet and Brno. The price tag is EUR2,590 ($3,296) and a maximum of five groups of eight people will be able to experience this course.
The Pro course, needs the completion of the Advanced one, and will concentrate mainly on letting the drivers experience the track behind the wheel on an AMG vehicle on their own. Eight groups of eight people will be taken to Nurburgring or in Le Castellet. This course is priced at EUR2,240 ($3,105).
Lastly, the Masters Sports Trophy, with a price tag of EUR3,890 ($4,950) and will take place at Le Castellet, and Brno and in Arjeplog (2011). All the participants will bring their personal AMG cars.