Kharl Prado
August 15, 2010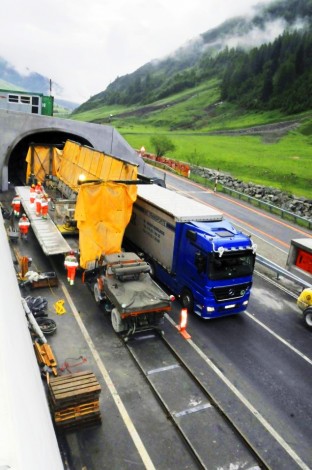 Whoever said Mercedes-Benz trucks are only good for public road use? Well, not quite. Nothing could be farther from the truth, as exemplified by this one of a kind Unimog found working in the Cassanawald Tunnel under the San Bernardino Pass. The Unimog is being used to haul a whole line of railway freight wagons carrying construction equipment. Yes, the equipment being used to construct the tunnel.
The Unimog was manufactured way back in 1971. Albeit more than 40 years old, it has been upgraded to comply with Euro 4 emission standards. This baby can pull as much as 60 tons of dead weight through the entire 1.2 kilometer tunnel. That was enough to paint a good impression on its operators, who realized that it was just what they were looking for.
The person in charge of the Swiss Road Works Department, Rudolf Dieterle, proudly boasts that tunnels in Switzerland are among the safest in the whole wide world. While those of you who has been to their tunnels may beg to disagree, you can't deny the amount of money the Swiss government spends on the country's road tunnels. About 1.2 billion Swiss francs, all dedicated to the Bern parliament's goal to make their tunnels the safest in the entire globe. The railroad-modified Unimog is helping them realize that dream by working day and night to keep construction on going.