Kharl Prado
August 18, 2010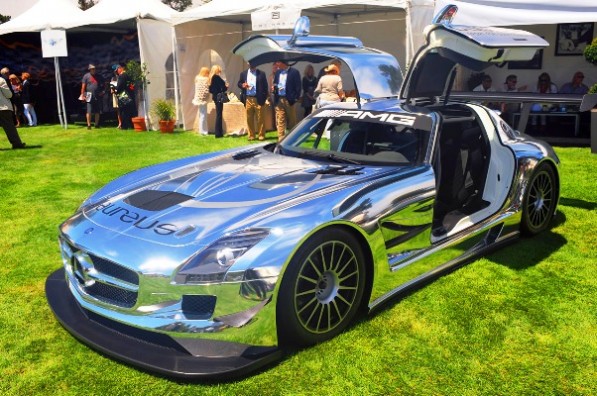 Ladies and gents, no you are not looking at a car that's sitting comfortably somewhere in Dubai, Russia or even its home country Germany. This beautiful SLS AMG GT3 is in Monterey for its classic car week event.
In case you're wondering, the SLS AMG GT3 is Mercedes-Benz's official racing version of their V8 supercar. We know—it now looks like a car which has risen out of a scene from Terminator. Heck, it could even pass off as either an Autobot or a Decepticon in either installment of Michael Bay's Transformers movies. But it's none of those. The reason that it looks like liquid silver is to live up to Mercedes-Benz's Silver Arrows heritage. Talk about sticking to your roots.
The SLS AMG GT3 is so sleek, you can use it as a mirror wherever you go. Of course, you won't be driving a race car on public roads, now will you? Unless, of course, you're craving for attention. Park this baby in front of your favorite Starbucks outlet and surely, even patrol cops will stop by to check if their uniform is in order. It's that shiny.
Seriously, appearances aside, the SLS AMG GT3 is no narcissistic weakling. This baby is capable of going head to head with any eight-banger out there.