Kharl Prado
August 29, 2010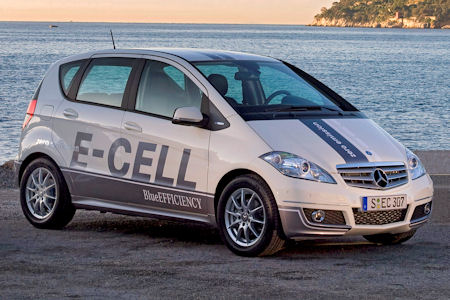 Want to get a load of the latest in hybrid and electric vehicle technology? Then you'd better be at the Paris Auto Show this August as the industry's most promising hybrid and electric vehicles take center stage on this unique event.
In case you're wondering, Mercedes-Benz will be introducing a whole new variant for the A-Class. Rightfully named as the E-Cell, hopefully it will pull in enough crowds at the Show to gain an early step in its production cycle. As far as manufacturing is concerned, there are only going to be 500 units made. Right now, we're a little lacking on details, but it looks like Mercedes-Benz is set to announce officially the A-Class E-Cell.
Several sources suggest that the A-Class E-Cell will be running a battery pack and controller combo that's sourced from Tesla. Mercedes-Benz parent company Daimler AG happens to own a controlling stake on Tesla, in case you're wondering.
As far as range goes, the E-Cell will run around 124 miles on a full pack. And it will have around 214 lb-ft torque spilling from its drive wheels. Both the A-Class and the B-Class will be produced at two plants, namely in Kecskemet, Hungary and Rastatt, Germany. As for the 500 test vehicles, well, they're going to be sold or leased to companies for further testing procedures, of course.