Michael C.
August 31, 2010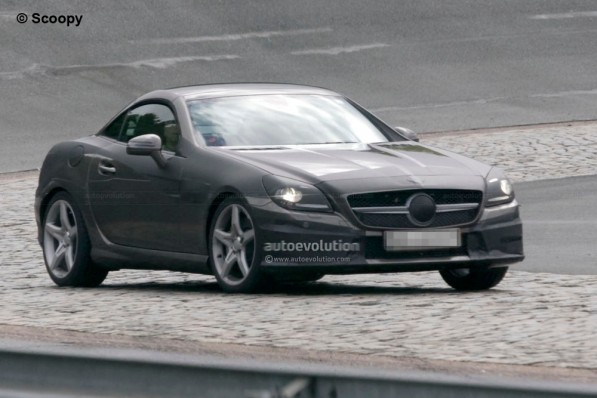 After some spy photos showing the 2012 Mercedes SLK being tested while wrapped in heavy camouflage, photographers have succeeded to take a much revealing photo of the German coupe-convertible.
Based on the photo, the automobile showed some improvements and modifications in its body, even though the enhancements that really matter, which includes the more aggressive front nose is still hidden in thin layer of camouflage.
On the next generation SLK, the side mirrors will also be modified, as they are now much larger and adjusted further back than the present version. It is also situated on the doors and not in the front front of the side window.
Nonetheless, those who were aspiring for a design transformation with the latest SLK may be disappointed, as the SLK continues to carry the design cues that is familiar to its model.
With regards to the engine, it is anticipated that the SLK will feature four and six-cylinder petrol engines, with an average of 180 hp, and a much stronger AMG version of one of them is also to be also presented.
The AMG SLK will also be fitted with a smaller, twin-turbocharged engine (possibly a V6), rather than the present 5.4l V8. Though it is much smaller, the engine will be at about the same levels as in the present SLK AMG Black Series, with at least 400HP.

via: AutoEvolution