Kharl Prado
August 10, 2010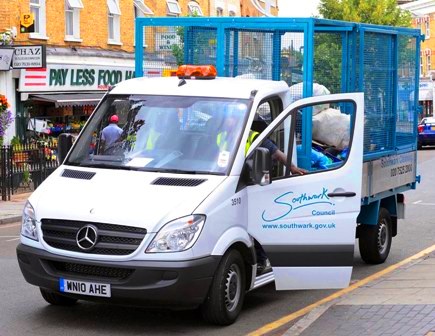 The London Borough of Southwark has got a brand new fleet of environmentally-friendly vehicles to help clean the streets and lessen air pollution. They're none other than Mercedes-Benz's Sprinter van, chosen by the Southwark Council after a salvo of tests to confirm its environmental prowess.
Around 47 Sprinters have been ordered, and an engine that's compliant with Euro 5 emission standards and the Enhanced Environmentally-friendly Vehicle, or EEV, standards powers each one of them. Mercedes-Benz took it upon themselves to design their vans' engines to be EEV-certified to have a cutting-edge advantage of competing manufacturers.
The Sprinters are also equipped with Mercedes-Benz's ECO-Start technology, a system that improves fuel economy and lessens exhaust emissions by automatically shutting down the engine whenever the van is not moving. This prevents fuel from being wasted during idle times such as when waiting in heavy traffic or a drive-through fast food joint. By shifting into neutral and releasing the clutch, the system shuts the engine down two seconds later. They system restarts the engine as soon as you depress the clutch pedal.
According to Southwark Council Business Unit Manager Matthew Trott, one of the main reasons why they chose Mercedes-Benz Sprinters was because of their engine's compliance with both Euro 5 and EEV standards.