Kharl Prado
August 11, 2010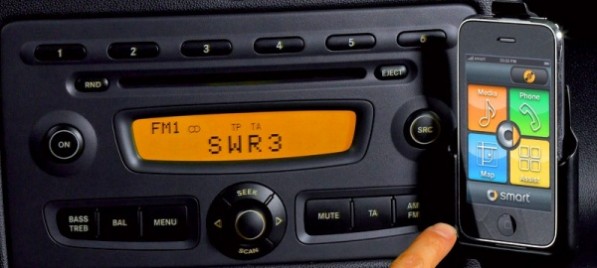 Been waiting for Smart's drive app for your iPhone? Well, wait no more. The app is now available on the iTunes App Store for $9.99. And you may want to get the Smart Drive Kit as well. It's a cradle that enables advanced telematics using the iPhone app. You could now buy the cradle at any Smart dealerships all around the country. Remember, both the app and the kit are for sole use on the Smart Fortwo.
The Smart Drive Kit lets you charge your iPhone directly in your Fortwo while also integrating audio to your in-car entertainment system. The app and kit combo has actually been awarded with the "Best Portable Telematics Solution" in the 2010 Telematics Update Awards. These two turns your iPhone into a versatile console wherein you can access information and multimedia right in the comfort of your Fortwo.
If you buy the Smart Drive Kit from any Smart dealership in the US, you'll get a $10 complimentary gift card which you can use on the Apple iTunes store. So it's like saying that, "Hey, you buy a kit and we'll pay for your app!" Sounds like a nice deal, ain't it?
Mercedes-Benz created the app to be extremely user-friendly. You can upgrade it to have a full navigation system complete with destination guidance, on-screen map, voice instructions detailing each turn you have to take as well as real-time traffic information. It's pretty much a done deal. Now, all you have to do is visit a Smart dealer, or check out https://www.smartusa.com/driveapp for more info.