Kharl Prado
August 15, 2010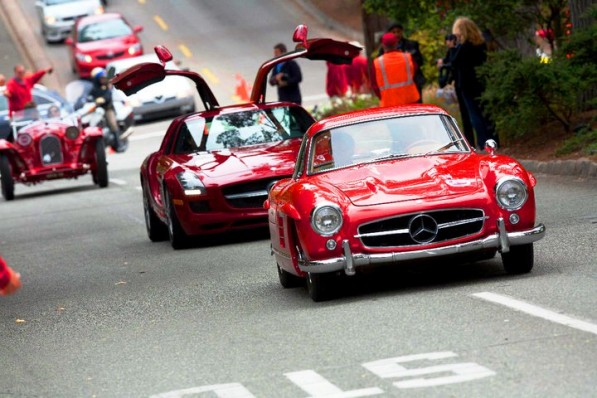 If you aren't at Pebble Beach yet, you're missing half of your life. Day One of the Concours d'Elegance has just wrapped up and here are photos to boot. As you can see, the event never fails to bring in crowds from all over the world, who are keen on witnessing the development of the automobile. And, as the longest living car manufacturer in the world, making them the first ever, Mercedes-Benz plays a pivotal role in such ceremonies.
It was Mercedes-Benz which invented the automobile, and it shows from the presence of the company in Day One. Mercedes-Benz Star Lounge, located on the third fairway, has more than twenty vehicles being displayed as we speak. The vehicles feature the company's latest innovations as well as the flavor and richness of its heritage that contributed largely to the development of the automobile industry as a whole.
A highlight of Day One, apart from the cars, was the presence of the living legend himself, Sir Stirling Moss, accompanied by Mercedes-Benz Director of Communications Geoff Day. Moss delighted the crowd as he paraded in the original 300SL Gullwing while the pair discussed the classic icon in relation to its descendant, Mercedes-Benz's super car, the SLS AMG Gullwing. It would have been something if you were there to see it—the event, the cars, the people—with your own eyes and capture it with your own lenses. For now, the pictures should keep you busy. Enjoy!