Michael C.
August 15, 2010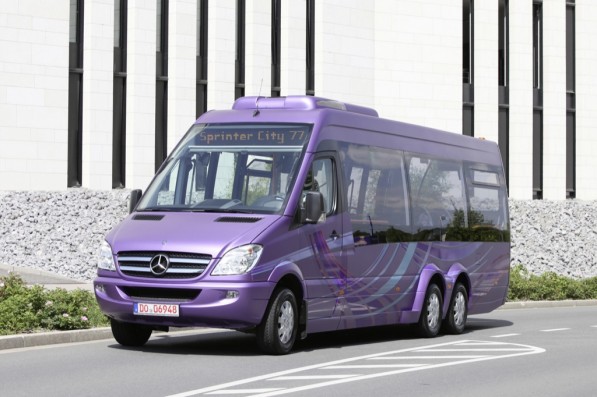 For this upcoming 2010 IAA show in Hanover, Mercedes-Benz will present five travel coaches and transit buses together with the zero-emmision Citaro FuelCELL Hybrid. The main showcase of the German carmaker's booth will the the world premier of their Sprinter City 77 that is designed for urban use. The minibus is established upon a conventional Sprinter up to the B-pillar, though the bus body with its twin rear axle and continuous low-floor area is a unique in-house advancement for the Sprinter City 77.
Having a seating capacity of 40 passengers, the minibus could be described as a cross between the Sprinter City 65 and the Citaro K. The latest Sprinter City 77 averages about a meter longer than the previous City 65 front runner model and based on the equipment option, features an extra ten passenger seats. Other highlights of the urban bus include two outward-swinging double doors, which function by utilizing an exclusive drive concept, a kneeling function and a bright interior that have large windows & large glass doors.
Based on the company statement, the comparably short wheelbase and the sophisticated design makes the minibus highly manoeuvrable. The width of the separately mounted body is around 1.99 metres, thus making the minibus fit for tight inner city places. Additionally, it is also a great solution as a shuttle bus to utilize for airports or trade fairs, as well as rural services. The Sprinter City 77 is driven by a four-cylinder diesel powerhouse with an output of 120 kW (163 hp) and a total maximum torque of 360 Nm, combined with a fully automatic 5-speed transmission.