Michael C.
August 17, 2010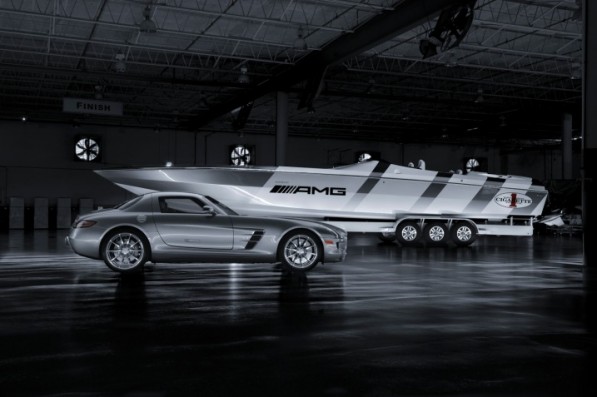 Last February, there were news of a Cigarette powerboat produced to honor the latest Mercedes-Benz SLS AMG, originating from a team-up between Mercedes-Benz's performance line AMG and the Cigarette Racing Team. Presently, the same racing boat is up for sale at JamesList for no less than EUR 900,000 (US $1,150,000+) by Maranello Marine GmbH in Germany, based on the reports of bornrich.org.
The Mercedes-Benz SLS AMG Cigarette boat that is for sale boasts of the latest Mercury Racing 1350 hp 9-litre V8 Twin Turbo engines, producing five times the power of the SLS AMG that it is based upon. The Cigarette 46′ Rider XP runs at 95.59 knots and boasts of a maximum speed of 117 knots (130 mph/210 km/h). This motor yacht is finished in the similar hand-painted AMG Alubeam silver paint as the SLS AMG which "covers body surfaces like a metallic skin, targeting light reflections to further emphasize exterior character lines and design details" through the help of something called nanopigments.
Inside the Cigarette 46′ Rider XP showcases marine-grade upholstery manufactured to replicate the two tone porcelain and white Nappa leather in the SLS AMG. Based on a statement by a Cigarette company official, the boat showcases more than 100 technical innovations, which includes an upgraded shape and extreme weight-reducing. The 46 foot racing boat was manufactured over a 24-month time frame and boasts of many features. So if you have around EUR 900,000 to spare, this could be the perfect choice for you.