Kharl Prado
August 26, 2010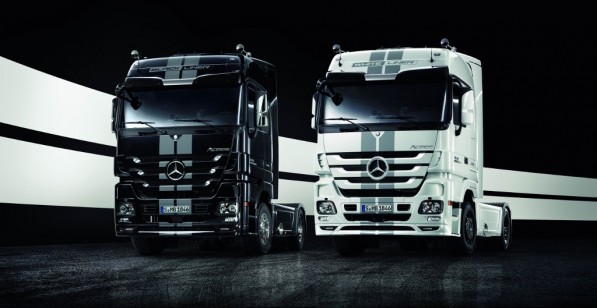 Just because you're doing serious business doesn't mean your trucks don't have to look good. And that is why Mercedes-Benz Trucks has just launched its special edition model of the Actros, named the Black LIner and the White Liner. Quite a contrast, don't you think?
There aren't really any technical enhancement done from the basic Actros, only that these two have been specially painted and have been sprinkled a few tidbits of luxury on a few places. The colors aren't exactly black and white. It's more like diamond white and obsidian black. The Black LIner features exterior mirror trims with chrome accentuations, stainless steel sidesteps and blackened headlight trims. The White Liner, on the other hand, features LED daytime driving lights plus LED position lights for maximum flare. Its white exterior mirror trim, black steps and chromed out headlight trims are a stark difference from the black version.
Of course, luxury starts from the inside, and that's why Mercedes-Benz threw in climate control leather seats, leather door panels, leather steering wheel, leather armrests and brown velour floor mats. As a finishing touch, there are air horns, illuminated star logo, sun visor, electric sunroof, electric sunblinds, auto climate control, ambient light and a coolbox.
You'll be able to catch these two at the IAA Commercial Vehicles parade in Hannover during the last days of September. You might want to order early as there's only going to be 500 produced.