Kharl Prado
August 9, 2010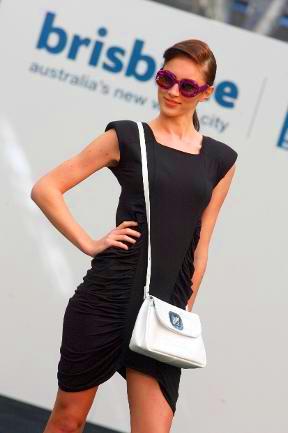 The Mercedes-Benz Fashion Festival is happening in Brisbane, and it's about to generate around $5 million worth of retail boost, surpassing the previous year's $4 million. That's according to MBFF Director Lindsay Bennet. This can be seen from visitors buying clothes to wear in the Festival itself as well the outfits that they see being ramped up on stage.
Bennet says the one store, Scanlan & Theodore, actually sold out their stock of shoes on Saturday evening, while Camargue was able to sell their whole collection in just two days in the previous year. It's very, very clear that the Festival drives an increase in spending and buying amongst both locals and visitors.
The purpose-built marquee at South Bank's Cultural Forecourt was filled to capacity on Saturday night, and presently there are very few remaining tickets that are available for the rest of the week's shows. Recent highlights of the Festival include an exciting show of local designers' brand new season swimwear collections which include White Sands, Rebecca Manning Swim and Riot. Also up on stage is last year's Fashion competition champion Blanc + Delta, strutting alongside designers and boutiques from Brisbane and interstate brands that include Lady Petrova.
If you sum it all up, there are around 38 designers from Brisbane, 24 from the rest of Australian continent and 24 from other countries participating in this year's event. So if you're living in the Land Down Under, make sure to bring yourself and your purse to the Mercedes-Benz Fashion Festival in Brisbane.