Kharl Prado
August 18, 2010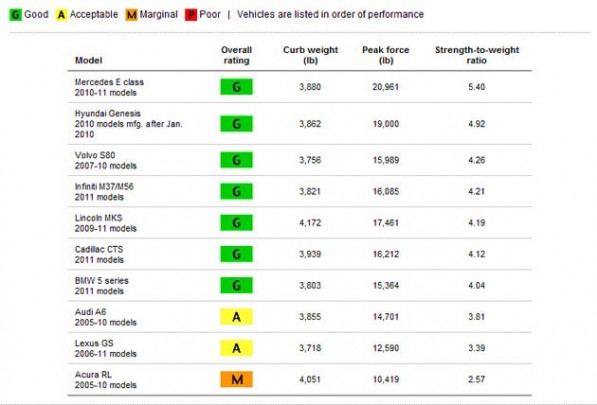 So which car won this year's Top Safety Pick? Well, according to the Insurance Institute for Highway Safety, it's the Cadillac CTS and the Infiniti M, which are both very impressive in each of their own's rights. With the competition very tough, it helps if the vehicle has the makings of a strong shell. Something that can survive a rollover while not necessarily being built like a tank. At the least, its roof has to have enough strength to as much as four times its own weight.
Well, that is what clinched the award for the Cadillac and the Infiniti. Since this is Benz Insider, we're assuming you're wondering what happened to Mercedes-Benz in this race. Well, the company's E-Class range was able to join the ranks of these two, along with the BMW 5 Series, Lincoln MKS, Volvo S80, and the Hyundai Genesis. Yes, we know, it's pretty hard to believe the Genesis is included in the list. It seems those cheap Korean cars are no longer as cheap as they used to be.
Now, you may be wondering that with all these cars being part of the study, it wouldn't have been that hard at all to pick out winners. Still, you have to take note that not each and every car studied got a "Good" rating. The Lexus GH and the Audi A6 only managed to get "Acceptable" ratings. Heck, Acura's RL even fell behind with a "Marginal" rating. So you see, you have much to rejoice for with the E-Class' inclusion.