Michael C.
August 7, 2010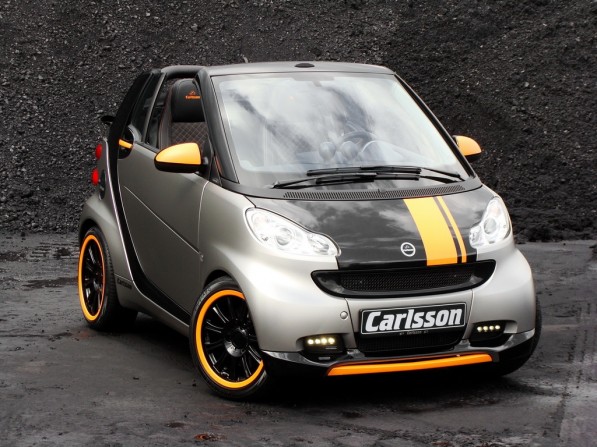 The tuners at Carlsson have showcased their initial tuning packages for the 2011 smart fortwo coupe and convertible lines. The modifications suggested by Carlsson are targeted at making exterior and interior developments, and without creating any adjustments to the power unit.
To start with, the outside of the 2011 smart fortwo was installed with LED daytime running lights in front and two black radiator grill inserts built from powder-cated stainless steel and brand new alloy wheels. The LEDs also serves as sidelights. The ready to install set is offered by Carlsson for EUR 415. Based on the statement released by Carlsson, this would indicate that the LEDs may be utilized at the same time as dipped headlights and so to differ themselves from the regular modification kits.
With regards to its interior, the Carlson 2011 smart fortwo coupe and convertible are given a leather package which mixes Napa leather and Alcantara that stretches on areas like the instrument panel, knee area, steering wheel, instrument cluster, air vents, center console, doors and seats. The leather package amounts to a total of EUR 4,163. Additionally, to fit every interior colour, the car manufacturer offers a gear selector in high quality leather (EUR 89) in the colour mixtures black and silver, black and red or black and beige.
Another showcase that comes in the package is the top of the line Exclusive Edition sound system that boasts of digital two channel amplifier that produces 400 Watts RMS, a 16.5 cm loudspeaker and a textile tweeter. The audio system for EUR 1,295 comes with an LED footwell lighting which turns on when the doors open.