Michael C.
August 6, 2010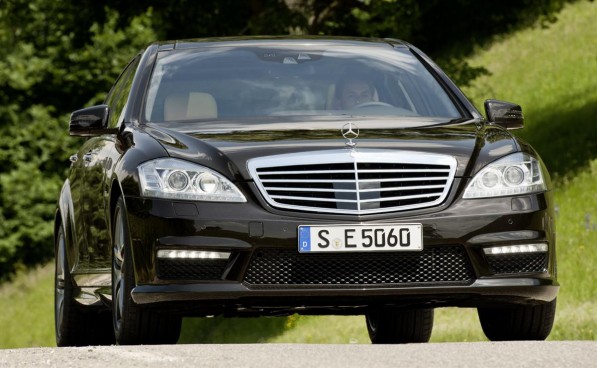 After over a year from its last update, Mercedes-Benz this week presented to the public the 2011 S63 AMG, powered by the German carmaker's latest 5.5 litre twin-turbo V8 engine. While Mercedes maintains development of the brand new S-Class, anticipated to debut on the last quarter of next year as a 2012 model, this last modernization to the present generation S63 AMG is nonetheless a very important one, due to the latest engine. To take over the 390kW/630Nm 6.2 litre V8 that is presently doing service in the AMG assembly, the latest smaller-capacity twin-turbo-charged V8 generates 400kW and 800Nm of torque. The 5.5 litre V8 powerplant's maximum power is available at 4400rpm, with the large torque capability going between 2000 rpm and 4500 rpm.
Assisted with the inclusion of direct injection and a stop/start system, fuel consumption measures at 10.5 l/100km, thus having a 25 percent progress over the previous model. Carbon emissions have also dropped, measuring at 244g/km. A much effective model of the engine will be released, with its power increased to 420kW and 900m of torque, due to the AMG Performance Package. In both cases, the S63 is installed with SpeedShift MCT seven speed automatic transmission, the combination of powering the regular model to 100km/h in 4.5 seconds, with an electronically controlled maximum speed of 250km/h. Bring in the AMG Performance package, and the 100km/h point is attained in a slightly faster 4.4 seconds, while the maximum speed is amplified to 300km/h.
Aesthetic modifications to the 2011 S63 AMG are clever to say the least, with the ever present LED daytime running lights in the outer intakes of the front bumper, together with the latest 19-inch alloy wheels and V8 Biturbo feature. Its breaking is administered through a double floating front calipers up front, and standard sliding calipers at the rear.
The interior of the S63 AMG gets a humble modification with a top of the line instrument cluster and new stitching colours have been put in to the 'Passion" leather upholstery. Australian debut dates and price tag for the latest S63 AMG have not yet been revealed, but Mercedes-Benz Manager for Corporate Communications, Jerry Stamoulis has stated that the latest model will surely be presented in Australia.