Michael C.
July 21, 2010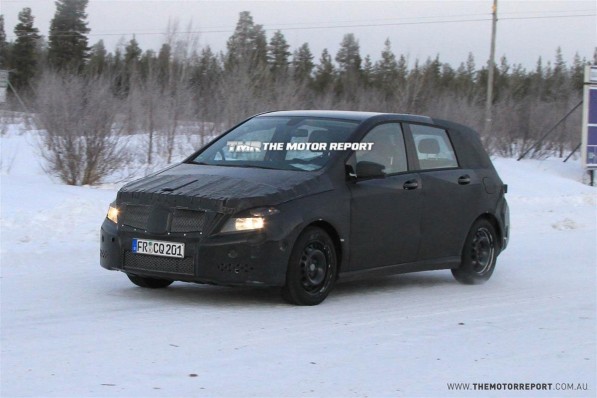 The modern make of the Mercedes-Benz B-Class, which was launched in 2005, will soon be replaced by a more updated model. This latest depiction from spy photos is meant to provide a quick look of what we should expect with regards to the styling of the new B-Class when it comes out in 2011. The model given away in our spy photo is that of the five-door hatch but there have been talks in recent months that Mercedes-Benz is looking to include coupe and convertible variations to the line-up of the B-Class. A report which broke out in July of 2009 indicated that Daimler – which is currently considering platform-sharing prospects with a good deal of carmakers – would build the new B-Class on a platform which would be a Toyota derivative.
Just last April, Daimler corroborated that it would collaborate with the Renault-Nissan alliance; a joint venture that would make sure that each company would gain something from the expertise and powertrain options of its partners. A common structural design will also be developed and this will form the foundation of the ForTwo substitute and the next-generation Twingo, with both models projected to be launched in 2013. These two models will come out in two- and four-seater variants and will be built in a rear-wheel-drive platform. Also included in the line-ups of both cars are all-electric models. Mercedes-Benz has offered no further details about its next-generation B-Class although hybrid variations, which are probably based on the B-Class F-Cell model which was unveiled in August of last year, are definitely included among the hatch's powertrain choices.
Other hybrid alternatives include the new diesel hybrid technology which is listed among the characteristics of the 2011 Mercedes-Benz E300 BlueTEC and the plug-in hybrid technology sampled in the Vision S500 concept at Frankfurt last year.