Michael C.
July 8, 2010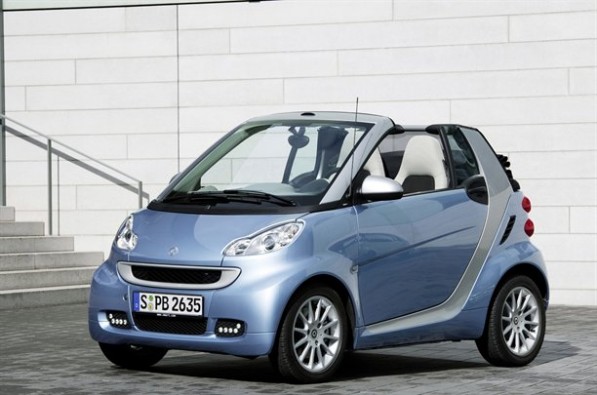 The second generation of Smart underwent modifications for some minor visual developments: a re-modeled interior and an increase in efficiency for the petrol engines. The changes which is aimed at the ForTwo coupe and cabrio, will be presented to the public for the first time at the Paris Auto Show in September. The front of the car has been equipped with optional daytime running lights that utilizes LED technology and are fitted in the lower part of the front bumper, which has also been modified.
The carmaker now brings a high level of customization, as the car is installed with new types of lightweight alloy rims, a new green matte finish and the choice to include the safety cell painted in white, with identical grille and exterior mirrors. Inside the car features a new dashboard with an up to date instrument panel. The center armrest has also been modified while the interior lighting now utilizes LEDs. It also boasts of an optional communication and entertainment system that goes with a huge, colored monitor. There is also an optional list of top of the line equipment like an exceptional sound system with eight speakers and a USB interface.
With regards to the engine, it utilizes a 1.0 liter tree cylinder petrol unit that went through an ECU remap which brings the combined cycle fuel consumption to a minimum of 48 US mpg and the CO2 emissions to 97 g/km for the 60 and 70 hp incarnations of the engine. Additionally, the top of the line Brabus edition has been modified to go over its 100 hp mark, now carrying out 101 hp, in contrast to the 98 hp it offered in the past.