Kharl Prado
July 28, 2010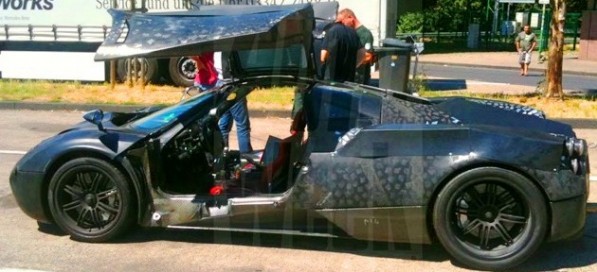 You just can't get enough of spy photos, can you? Well, here's more, but it ain't Mercedes-Benz. Well, technically, Pagani super cars use Mercedes-Benz engines, so that in essence makes them close kin, and earns them the right to be in Benz Insider.
So here's the latest bit of Pagani news. Have you ever seen a Pagani Zonda super car parked on the street with its doors swung so arrogantly wide? Well, you better relish that moment, because soon you'll see something different. Something so wild that you'll get the feeling you're looking at a far relative of the Mercedes-Benz SLS AMG—on the Zonda's replacement, that is.
This spy photo of the new Pagani C9 hypercar shows what people have been dying (if not hoping against) to see—gullwing doors. Yes, it's so crazy you'll instantly be drawn towards it, like a magnet attracting bits of iron. Who would've thought that Pagani would go on a path that so reminds people of the SLS AMG. Perhaps an exchange deal of some sort for using Mercedes-Benz's engine technology? Who knows for sure?
Perhaps the designers down at Pagani were highly pressured to deliver something so radical that it instantly catches the mind of people. Or maybe it's just because this super car manufacturer has close ties with both F1 legend Juan Manuel Fangio and Mercedes-Benz.
As for power, you'll get no less than pure muscle from its Mercedes-Benz sourced V12 power plant. That's a good indication right there that this partnership is going the right way.