Michael C.
July 6, 2010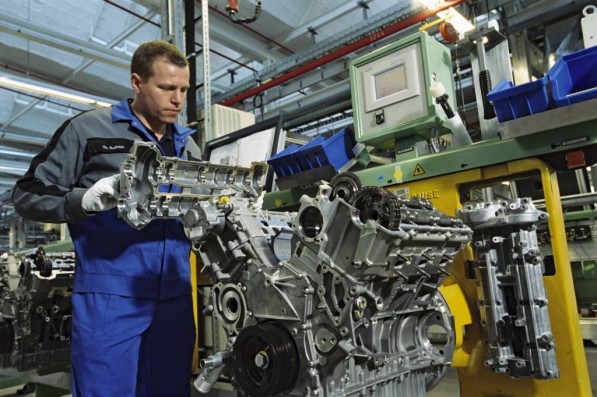 Mercedes Benz made public that it has accomplished a significant milestone for its Berlin facility, which is also the oldest plant owned by the Daimler group as its 1 millionth V6 engine came off the assembly lines. According to Harald Wolf, Mayor of Berlin, who was present at the ceremony held at the plant, the Berlin engine plant has been a very important part of Berlin's industrial landscape, and also a significant player in the business world for many years. Additionally, Berlin is very optimistic to a long-lasting positive impact on the region.
The event was of special significance for the German carmaker, who called to the plant manager Thomas Uhr, Volker Stauch, head of Powertrain Production Mercedes-Benz Cars and even some of the children from the Berlin plant's "sternchen" creche. It turns out that the children from the creche, were assigned with producing and painting a papier-mache wall through which the engine collided when coming off the line. According to Thomas Uhr, plant manager, though the Berlin facility is the oldest plant in the Daimler Group, the outstanding passion and commitment of their workers has maintained the facility young and dynamic.
Mercedes also made public that in addition to the V6 diesel engines being manufactured in Berlin since 2005, which also includes the BlueTEC variant, and the V12, manufacturing of transmission-integrated electric motors for Mercedes vehicles will start next year. The plant will also be reconstructed for a new function, after a EUR40 million investment. Mercedes will transform a 4,000 square meter shop for the manufacturing of the electric motors.