Gill
July 3, 2010
How many of you are fascinated by the matte finish? And would you choose it for your Mercedes-Benz? If yes, then you are not the only one who thinks this way. In an official announcement, the German car-maker said that matte paint finish will be offered as a standard option under its Designo program. The customization program aims to extend this service to a number of Mercedes-Benz models.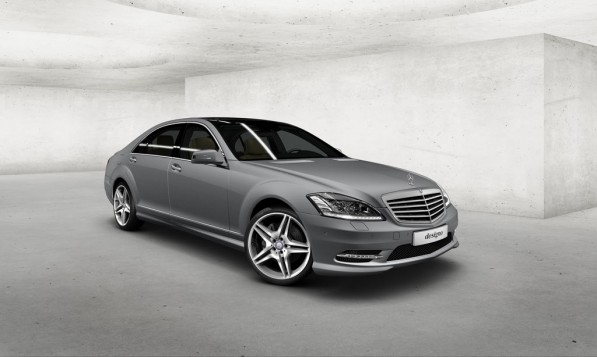 Lately, the matte paint finish for vehicles has become all the rage especially in the tuning realm. Mercedes-Benz wants to cash in on the latest trend by including the matte paint finish in the 2011 Designo program under the name called 'Magno'. The company claims that unlike street matte paints, their finish creates a better-quality scratch resistance vehicular surface. The factory paint also hides trivial dust/dirt particles better as compared to the traditional finishes. Well, that claim has to be verified in the real world to be believed. So, let's wait and see.
Mercedes-Benz's official customization program called 'Designo' offers exclusive paint finishes and an assortment of custom-made interior features. Some of these features include hand-stitched leather seat/dash finishes and tailored interior trim elements utilizing exotic finishes like deep black piano, glossy, natural stone, wood and lacquer. Some new colors added to the design program include Cashmere white, Allanite Grey, and Platinum.
In 2011, more standard models will be covered under the designo program which includes the S-Klasse, E-Klasse, SLS AMG, CL-Klasse, M-Klasse, SL-Klasse, and G-Klasse.
President and CEO of Mercedes-Benz Canada, Marcus Breitschwerdt, said, "Owning a Mercedes-Benz vehicle is an extension of personal style. The designo program empowers customers to select from a myriad of exclusive trims, distinctive colors and top quality materials to design a vehicle that reflects their own discerning tastes and individual preferences. The elegant and graceful lines of our sedans, the aggressive styling of our coupes and cabriolet models and the ergonomic and luxurious interiors for all our vehicles provide an ideal starting point for customers to build their own, bespoke masterpiece."