Kharl Prado
June 15, 2010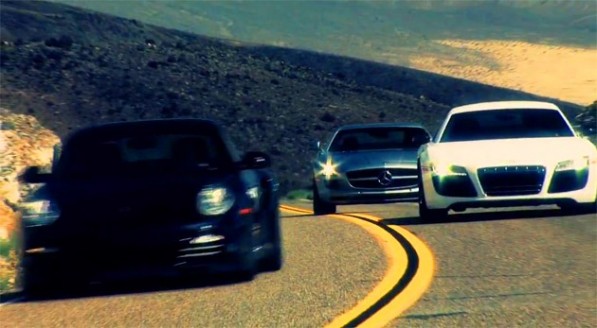 Some guys have all the good luck. The boys at Motor Trend, known for their outlandish videos of cars being put to extreme tests—or you could say they're just having fun—have recently uploaded another video to their credit. This time, it features three German supercars—the Porsche 911 Turbo, the Audi R8 5.2 FSI, and (yeap, you guessed it) the Mercedes-Benz SLS AMG.
These guys know what they're doing. They're so good at it that they even convinced California Highway Patrol to barricade a stretch of desert highway off Las Vegas to give them space to work—or to play.
The trio, made up of no less than MT Editor Arthur St. Antoine and two of his writers, made sure the rest of us—both fellow auto journalists and fans—drool over their adventures by providing raw HD footage of the action. You could tell it's real just by the sound of the three German engines being pushed under the Californian desert heat.
Oh, if only we could be in their shoes. At least, in the SLS AMG. We'll make sure we'll get our time's worth by feeding desert dust to the Porsche and the Audi. Not that those two are any less capable. It's just that the SLS AMG has the potential to turn any other super car into a pile of sourgrapes.