Kharl Prado
June 19, 2010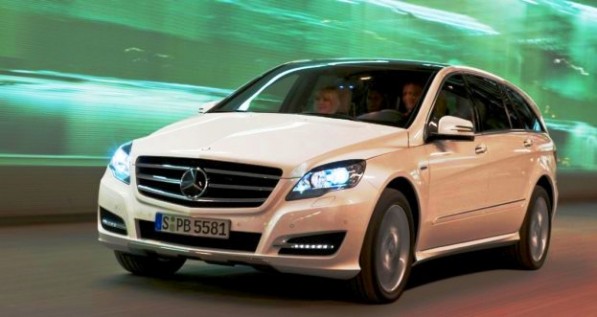 People buy cars for different reasons—some for mere aesthetics, others for sporty performance—while others for mere comfort. Put all three and you get the characteristics of a Mercedes-Benz vehicle. Of course, if you're both a wife of a busy CEO and the mother of three wonderfully active tenderfoots, then you'll be better off driving an MPV—short for Multi-Purpose Vehicle—so they'll have enough space to run about. Just make sure they're strapped securely when you're mobile.
Put both words—Mercedes-Benz and MPV together—and you get the R-Class. The 2011 model gets a redefined and totally aggressive front end, a smoother rear end and an attractive and totally teched out gauge cluster. A newly designed three-point star sits magnificently on the extremely large front grille, accompanied by equally innovative fenders, bonnet, grille and headlamps that scream Mercedes-Benz's new styling.
The headlights, sitting further from each other, are extremely angular and give the 2011 R-Class a wider, more dynamic, stance. Think along the lines of mascara applied professionally by a makeup artist. The rear end, meanwhile, gets equally angular tail lights and a restyled bumper. Add a diffuser to the mix plus a stylish tail pipe trim and that completes the cleanly shaved and totally edgy rear end.
The new R-Class will be able to comfortably seat a total of seven individuals—perfect for moms and their school children and shopping bags.