Kharl Prado
June 15, 2010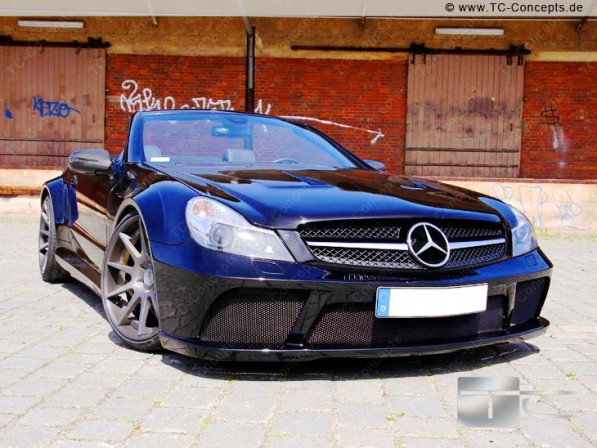 How many of you are fans of convertibles? Hands up. Your sheer numbers just goes to show that not everyone prefers a coupe, and that's why Mercedes-Benz makes sure you're never left out. That's what the Cabriolet is for. It's not just for the ladies, but for gentlemen as well—at least those who appreciate having the wind blow through their beard and chest hair. And just to make sure you don't grow envious of Brabus owners, TC-Concepts has come up with their very own pimped out version of your favorite Cabrio.
The Mercedes-Benz tuner now offers a modification kit for the SL65 AMG Black Series, giving the coupe-slash-cabrio bigger balls of steel and a lot of attitude. Going by the name of EXESOR, the modification kit puts a 6.5-liter twin-turbo V12 monster of an engine into your SL65 AMG Black Series, plus a reprogrammed ECU and redesigned boost control. On the rear end of this behemoth is a new sports exhaust system that features a low backpressure catback system, while a modified sports air filter sits up front.
The stock AMG adjustable sports suspension will be modified with a lowering module, bringing down the action to as close as 60nm to the asphalt. The 20-inch TC Ultraspoke 3-piece rims with Dunlop tires—285/25 R20 upfront and 325/25 R20 on the rear—speak for themselves.
As for the body, we'll just say there'll be a lot of carbon-reinforced plastic and genuine carbon. Aesthetics are all there in the picture. What's inside is for you to find out. So head on down to TC-Concept.