Kharl Prado
June 13, 2010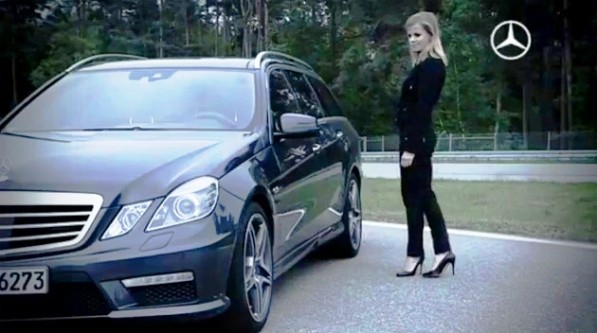 It's not everyday that you see a full-sized family wagon being hooned–especially on a racetrack. In fact, you could say it's an impossibility. It's even less probable that you see one being pushed to its limits not by a male driver, but by a professional female racr. So therein lies the difference between Mercedes-Benz and other premium car manufacturers. They dare put their name and reputation at stake by doing the impossible.
In this video, you'll find out exactly what we're talking about. It's none other than pro-racing femme fatale Susie Stoddart behind the wheel of the latest E-Class Es63 Estate. And yes, those squeals you hear are the tires of the Estate screaming. Stoddart does it so gracefully that it almost looks so easy—when, in fact, it takes a lot of driver sensitivity, skills and balls of steel to pull it off. But we're quite sure all Stoddart was thinking about the entire time is which restaurant to go to for dinner.
Kids, ladies, don't try this at home. Neither should you attempt this on the streets. Don't be a douche. If you're going to be hooning anywhere, it better be a racetrack. And at least make sure your car is as reliable as a Mercedes-Benz. Otherwise, you'll just be pre-empting huge repair costs to your vehicle—not to mention reason to buy new tires.