Kharl Prado
June 22, 2010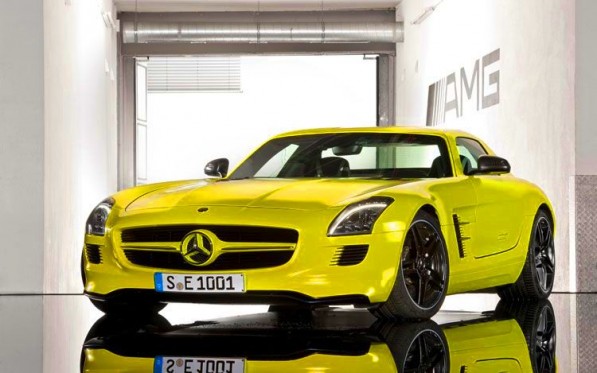 Finally, there's word of the much anticipated electric version of the SLS AMG. Actually, it's not just hearsay—Mercedes-Benz actually launched a prototype of their electric super car, dubbed the SLS AMG E-Cell, in a lively new color.
Mercedes-Benz calls it AMG Lumilectric Mango, a greenish-yellowish hue that does in fact look like a glowing mango. The SLS E-Cell, much to everyone's surprise, will have an astounding 526hp and 649ft-lbs of torque at its disposal, courtesy of its unique electric motor that's capable of revving as high as 12,000rpm. Pretty much like a superbike, don't you think? Formula One race cars actually idle at around 10,000rpm—just for comparison.
Of course, what else can you expect from an all-electric supercar but an array of equally environmentally friendly technology. Wrapping up the electric super car package are LED headlights that use less power than even high intensity discharge (HID) bulbs. You won't find LED headlights as standard equipment on premium cars—it has to be a supercar.
THE SLS E-Cell rides on staggered 19-inch wheels up front and 20-inch wheels behind. The interior is a generous display of fine black and white Alcantara with leather lining the steering wheel, seats, the center console and even the linings on the doors.
Performance wise, the SLS E-Cell is expected to sit in the realms of the Porsche 918 Spider as a comparison. So you'll be pretty darned crazy not to appreciate it despite its being run by batteries.