Michael C.
June 18, 2010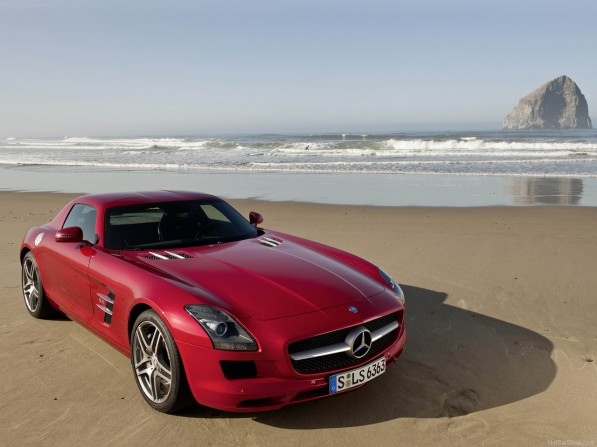 In Affalterbach, the Mercedes-Benz SLS AMG was victorious over some tough competitions. In the "Sportiest Cars of 2010" reader's survey arranged by the famous car magazine Sport Auto, the gullwing model bagged the award in the "super sports"category. The vehicle garnered the 17.2 percentage of the votes, which left all other competing vehicles behind. The SLS AMG defeated various competitors from different countries like Germany, Italy, Japan, Great Britain, USA, Sweden and France, which clearly shows how famous the SLS AMG is amongst the readers.
The leading series-production and performance-tuned automobiles are faced off against each other on a yearly basis in the sport auto reader's survey. The total number of cars that took part this year reached 260 vehicles in 25 categories, with a total of 10,000 magazine readers casting their votes. The Mercedes-Benz SLS AMG did not only win the polls but it was also triumphant when put to the test. The AMG 6.3 litre V8 front-mid engine with dry sump lubrication and 420 kW (571 hp) plus a torque totaling to 650 newton metres, a seven speed dual clutch transmission with a transaxle modification.  Additional details include its sporty double-wishbone sports suspension, summing up to an exceptional high tech design, with a guarantee of top of the line driving dynamics.
These specs became even more evident at the "super test" which is very highly considered between the Sport Auto readers and industry experts. The SLS AMG recorded a remarkable total lap time of 7.40 minutes on the highly regarded Nordschleife of the Nürburgring. The reaction received succeeding the sports vehicle's "super test" was quoted to be – "Respect! The Mercedes sports brand AMG has put a magnificent machine on the road"
Since the SLS AMG was unveiled at the 2009 International Motor Show (IAA) in Frankfurt/Main, the SLS AMG has already received various recognitions such as: "GT Car of the Year" (Top Gear, GB), Golden Steering Wheel 2009" (Bild am Sonntag and Auto Bild) and Design Award 2010 (Auto Bild) among others.