Kharl Prado
June 8, 2010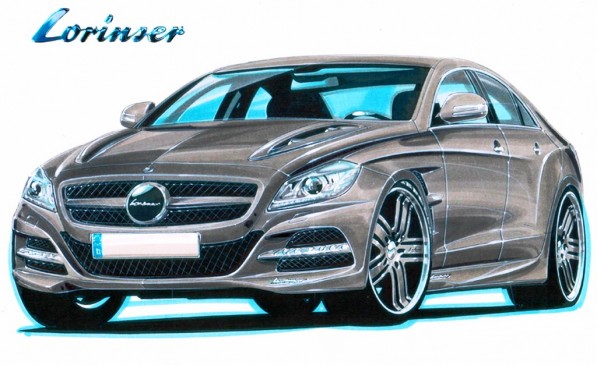 You've seen spy photos of the 2011 Mercedes-Benz CLS without any camouflage, and you know you want it. So how's about sprinkling a little gasoline into the fire just to kick up your hidden desires a little? Well, here's what the upcoming version of the CLS will look like with a little nudging from the boys down at Lorinser—yes, the German car tuning company. As a matter of fact, it's sort of a Lorinser tradition to release to their loyal customers artist renditions of what they're planning to do with up-and-coming models, so here goes.
To kick off, the new CLS will be wearing a full body kit to give it that more aggressive stance. There'll be larger intakes on a newly-designed bumper, a sports-type grille and a cool pair of LED daytime running lights to really announce its presence even under the sun. On top of it is an incredibly rapacious hood that's flanked by a couple of laid back air vents.
Looking at the Lorinser CLS from the side, you'll see a set of side skirts and air vents bored onto the front wheel fenders. The air vents, as expected, wear the same type of bold grille design that's used on the front grille. There's also an abundance of Lorinser logos so you won't be mistaken who's behind the makeover.
Try not to drool over the duo-colored rims so much. You'll be enjoying the car a lot more once you hear its modified engine sing from behind the wheel.