Kharl Prado
June 20, 2010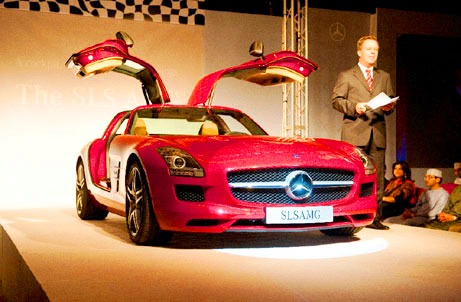 The rich and car-crazy in Oman are in for a real treat. Loyal fans and owners of Mercedes-Benz will have their shot at living out their supercar fantasies with the SLS AMG Gullwing. The supercar was put on the pedestal in an uber-exclusive party at the Shangri-La Barr Al Jissah Resort & Spa recently. The event, hosted by Zawawi Trading Co.'s deputy chairman Waleed Bin Omar Zawawi, drew crowds from the rich and famous, whose entertainment was served by salsa dancing artists from all over globe. Almost hugging the limelight from the SLS AMG was a vibrant fashion show to keep everyone's spirit alive and kicking.
Dinner music came courtesy of a live jazz band that serenaded the crowd with classical numbers, just to give the party hints of sophistication. Of course, the moment most anticipated by all was the unveiling of the SLS AMG, which made a grand entrance into the party. Driving gracefully, power put to the minimum, the SLS AMG parked right in the middle of the ballroom for all eyes to see.
Mercedes-Benz Cars Sales & Marketing Director for Daimler Middle East Frank Bernthaler shared to the crowd his take on the SLS AMG, explaining that it is a car that was designed and built from top to bottom, meaning Mercedes-Benz did not base it on any of their existing platforms. Bernthaler capped off by saying that if you really want to understand what the SLS AMG is all about, you've got experience it first hand—sounding like a true marketing professional.