Matt
June 12, 2010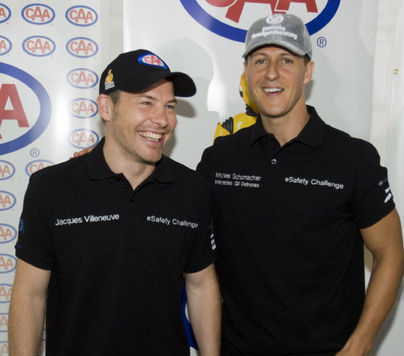 As the Canadian Grand Prix is underway this weekend, Schumacher and former rival Jacques Villeneuve shared the stage at the Canadian Automotive Association (CAA, Canadian branch of AAA) Safety Event. The event held in Blainville, QC, just north of Montreal, showcases the importance of in-vehicle safety and technological breakthroughs for keeping drivers safe and grounded on the road.
According to the TorontoStar, "[s]ubjected to a question-and-answer period, Schumacher was asked if the blind-spot recognition system available in state-of-the-art road cars would have helped him avoid his infamous collision with Villeneuve." Of course Schumi with his sense of humor defended himself by saying that ""It would have been a shame, because then we wouldn't have anything to laugh about right now."
When asked about Schumi's return for Mercedes GP, Villeneuve also expressed his interest in making a comeback to F1. However, he has yet to get an offer. In the meantime, he will just spend his time raising his kids.
For more info click here
Stay tunned for Sunday's raise and lets hope Schumi and Mercedes GP can get their pole positions!