Kharl Prado
June 23, 2010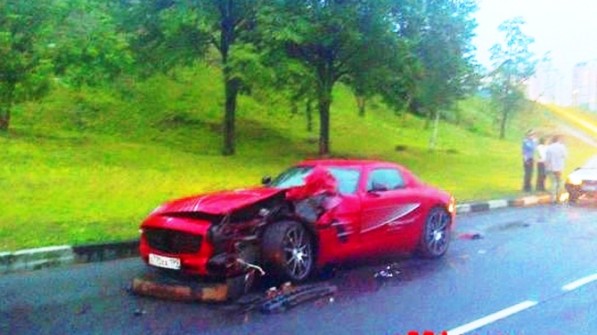 Here's an epic failure of driver's patience and wisdom. This $183,000 Mercedes-Benz SLS AMG got into a heated episode of cat-and-mouse with a couple of lesser expensive cars—a Lada 112 and a Nissan Murano—but wasn't able to perform quite to expectations. Either that or the driver was simply incredibly out-of-this-world stupid. Go figure. Would you really risk your super car by getting into an ego-testical match of courage? Then you might as well have picked something a little less expensive and memorable.
Anyway, here's the real scoop. You all know that only a handful of really affluent customers can get their hands on an SLS AMG, or much less get ownership of one. It's just too exclusive and production is limited depending on where the importing dealership is located. So, you could only grimace at the fact that the SLS AMG in question was actually a demo car. Yes, folks, there are actually individuals out there who aren't too keen on being careful with someone else's property.
And so here come rumors that the driver of this sad, sad SLS AMG was actually a lady. Hold your machismo comments guys. There are ladies out there who can really out-drive males. However, THIS lady was really asking for it. Credentials won't really save you from the barrage of comments coming your way. Fire away, guys.
That isn't the end of it, though. The worst part is, this SLS AMG has been written off. The damage was so major that its insurance company refused to handle its repairs. So there—it's the first documented crash of an SLS AMG. Grimace all you want guys. As is with all super cars, there's probably more to come.