Michael C.
May 27, 2010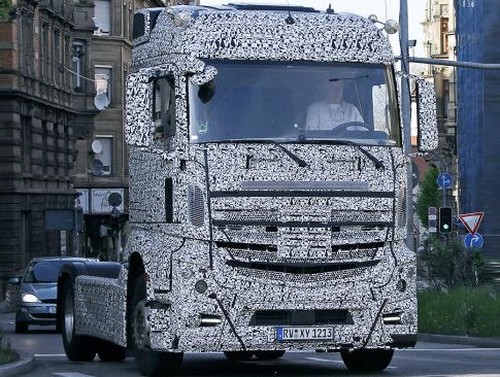 Spy photos reveal Mercedes Axor and Actros trucks wearing a camouflage usually seen in cars to hide the actual model and avoid industrial copying of other car manufacturers. Although we regularly see this in cars, we were surprised to see such camouflage applied in trucks.
The Mercedes trucks were covered in vinyl to camouflage its whole body, the actual size of the covering is enough to completely cover two to three cars. The appearance of the trucks were intended to mislead the cameras and prevent them from capturing the actual design of the trucks. Although is seemed less convincing when used in trucks, as it hardly hides the actual form and design of the Mercedes Actros and Axor. The two latest trucks by Mercedes is said to boost the market of the company with regards to heavy transport vehicles.
Based on the news, the Mercedes Axtor is more adept for transport, while the more expensive Actros is used mainly for long hauls and heavy tasks. Its new generation modification includes a couple of changes like additional LED daytime lights. With regards to the engine, it is adjusted to be more fuel efficient and to able to comply with EU anti-pollution laws. It is also said to have a few aerodynamic and ergonomic modifications.
Although the Axor and Actros may not be considered to be the most powerful trucks in its lineage, it would surely give their competitors something to worry about.