Kharl Prado
May 5, 2010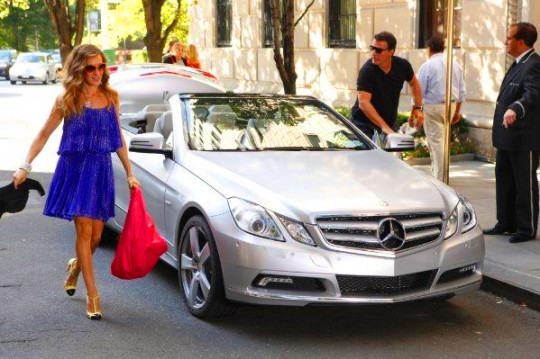 Are you a fan of Sarah Jessica Parker? Then you'll definitely love her up-and-coming movie sequel of Sex in the City. Because this time around, she's going to be chauffeuring a 2010 Mercedes-Benz E-Class Cabriolet.
It doesn't take a genius to figure out the deal between the movie's producer and Mercedes-Benz. This is, of course, a once-in-a-production-lifetime Hollywood endorsement of the Cabriolet, minus Michael Bay's explosions and war-addicted robots.
Still, if you're into Parker, or cosmopolitan women for that matter, and have had a growing affinity for the three-star badge, then this movie is for you. Chances are, your wife or girlfriend is more likely to pull you into watching this movie since it is targeted towards female audiences.
On a side note, the original Sex in the City movie gave a sneak peek at the Mercedes-Benz GLK350. SITC actress Kim Cattrall even flirted with Daimler AG CEO Dr. Dieter Zetsche after driving the GLK onto the Mercedes-Benz stand in the 2008 Detroit Auto Show. You just got to love how women handle a Mercedes. Kind of makes you want to buy one for your wife, doesn't it?
Perhaps that's what she'll ask you once she sees the movie. So better get in touch with your generosity and watch it.