Gill
May 29, 2010
The Mercedes-Benz SLS AMG has added yet another coveted feather to its cap. This time, it has won a massive design competition of AUTO BILD magazine, Germany. At the event, close to 200,000 readers of the Auto Bild magazine (spanning across 21 European editions) voted the new SLS-AMG as 'Europe's most attractive car'. Besides this, the gull-wing has also been awarded with the prestigious 'Plus X Award' for 'design' and 'high quality'. The event is often referred to as the world's biggest sport, technology and lifestyle competition.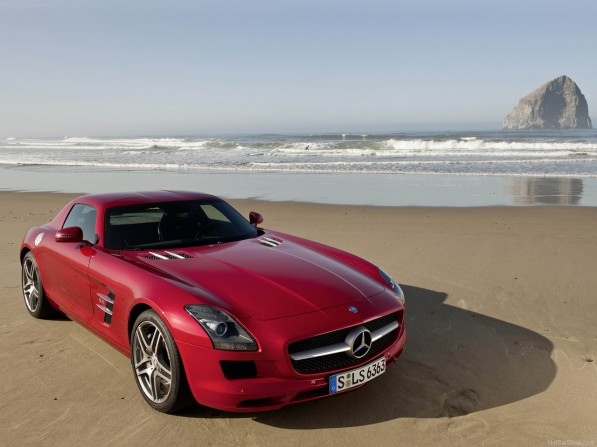 Although, a reader's personal taste was the single largest determining factor behind the AUTO BILD Design Award, the votes of around 144 renowned automotive experts and journalists from 32 countries also played a significant role. The individuals had to make their choice from among a variety of brilliant vehicles. With its fabulous design and enticing gull-wing doors, the new SLS-AMG appeals to the inner senses in all the right ways and reminds of its legendary ancestor – the 300 SL. However, the car is ultra modern when it comes to technology, driving and handling.
AMG engineers have stuffed it with exquisite technology, such as an aluminum space frame body, AMG's monstrous 6.3-litre V8 front mid engine producing 571 HP and 650 NM of torque, dry sump lubrication, a proactive sports suspension and 7-speed double-clutch transmission featuring transaxle arrangement. All this combines to create a unique high-tech package which delivers great driving dynamics.
Other Coveted Awards Won by SLS-AMG
Red Dot Design Award
iF product design award 2010
Golden Steering Wheel 2009
Design Trophy and Auto Trophy 2009
Best New Product 2009 at the International Motor Show Frankfurt" (AutoScout24)
GT Car of the Year by Top Gear
Best Dream Machine at the MotorWeek TV's Driver's Choice Awards