Leo
May 11, 2010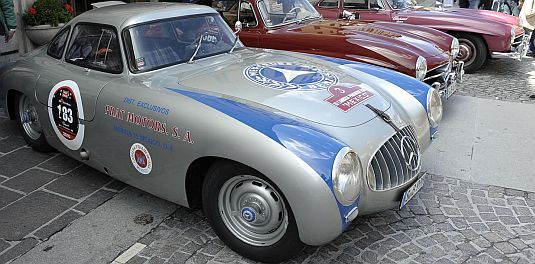 From 05 May to 09 May this year, Mercedes Benz participated in the Mille Miglia 2010, a yearly event where classic cars tried to outpace each other in a rally from Brescia to Rome and back again in a figure eight course. Mille Miglia, so-called because the course stretches across a thousand Roman miles, originally ran from 1927 to 1957 as an open-road endurance race but had to be ended because it had become dangerous. It was revived in 1982 as a road rally of vintage vehicles which dated back to the original Mille Miglia.
This year, Mercedes-Benz took part in "the most beautiful road race in the world" with its 1952 300SL sporty race car which saw a first place finish in 1997, with Flaminiano Valseriati and wife, Fulvia Sabadini behind the wheel. Valseriati also drove a 300SL in a 1989 Mille Miglia victory with co-driver Bernardo Favero. The first time that a Mercedes car won in the much-vaunted Italian classic car race was in 1931 with an SSK model driven by Rudolf Caracciola and Wilhelm Sebastian.
Mille Miglia 2010 spectators were treated to a display of rare Mercedes classics, which included nine 300SL Gullwings, three SSKs, a 220A and a W194 prototype I, easily the largest turnout of the company's treasures. David Coulthard, Jochen Mass, and Mikka Hakkinen were on hand to drive for Mercedes. 50 other brands and 400 vintage racers also competed in the annual event.