Kharl Prado
May 30, 2010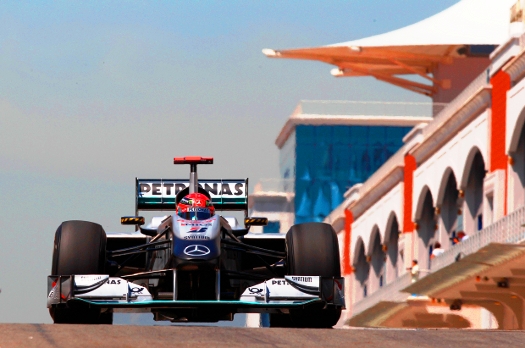 Despite starting out on the 5th and 6th grids, Mercedes GP Petronas finished a 4th-5th victory in the recently concluded Turkish Grand Prix at Istanbul Park today. It was a smooth, albeit quiet, race as both Michael Schumacher and Nico Rosberg were able to pull into their planned pit stops and still hold their positions ahead of their challengers.
As always, the weather played out pretty fairly for the team, as rain threatened to fall mid-race but only managed to score a few drops on the track. As if putting a curse on the Red Bull F1 Racing Team, those few drops managed to cause a collision between Sebastian Vettel and teammate Mark Webber, ruining the latter's opportunity to score a hat trick victory. The crash opened up the chance for Michael to move up to fourth and for Nico to slide into fifth for the rest of the race.
Michael is quite glad he was able to keep the car in check despite tire temperatures dropping during a slow start. He was only able to hold off Jenson Button for a period, until the McLaren's top-speed superiority took over.
Nico, on the other hand, was quite jovial about his successfully fast pit stops, albeit a bit dissatisfied, since his pace, although quicker than Michael's, was limited by not being able to overtake and being wary of Robert Kubica who kept putting on pressure from behind.