Kharl Prado
May 25, 2010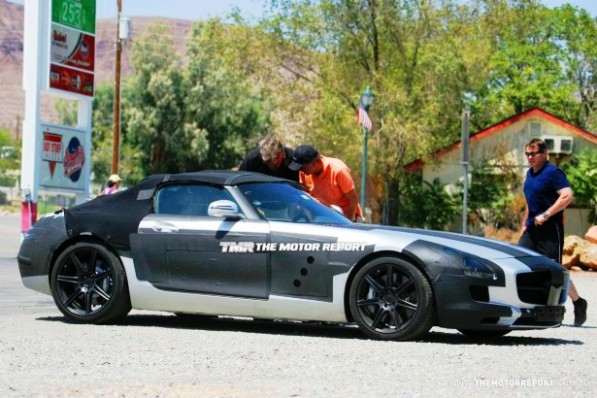 It's always a pleasure to spy on test subjects, especially if there's a lot of people who are dying to hear what news you're going to bring them. This time, it's the much awaited roadster version of Mercedes-Benz's super sports car, the SLS AMG.
Donning light camouflage, the test mule was spotted making rounds in Mercedes-Benz's proving grounds. Despite its patches, the SLS roadster is to die for – track-hugging suspension, racing wheels, retractable ducktail spoiler. At this stage, you'll still drool with envy for the test driver, who's abusively pushing the test subject to its absolute limits. You'll think he's having fun. Maybe he is, but it's all part of his job. So you can't blame him for rousing envy.
More important than anything else though is what's hiding under the hood. It'll be quite different from the hard top which has a 6.2 liter V8. The roadster version will be powered by AMG's brand new 5.5 liter V8. Of course, the new engine is likely sourced from Mercedes-Benz's new engine being built in Bad Canstatt. And as early as this year, the SLS roadster will likely make an appearance in showroom floors, taking away the SLR Roadster's status as Mercedes-Benz's flagship vert. So all you roadster fanatics, stay tuned.