Armin Hodzic
May 12, 2010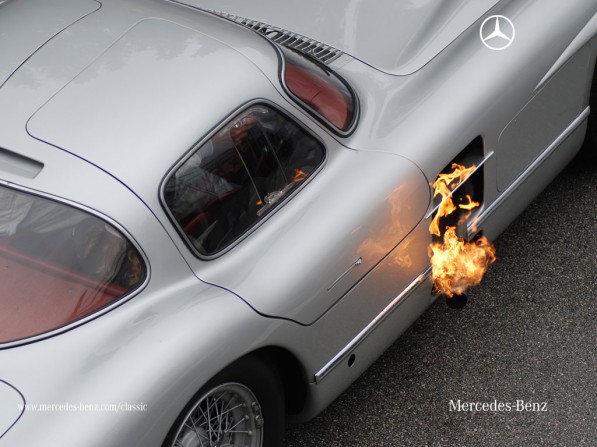 Ever heard of a car that is so hot that it's started to flame on? The Mercedes Benz 300 SLR was so hot especially in 1955 where it was a sports racing car for the  1955 World Sports Car Championship season.
The car specification pretty impressive, even for today's standards. It has the Formula 1 car's 8 cylinder in-line engine, 310Â horsepower, and a maximum torque of 318Â N-m. The high-octane fuel mixture of 65 percent low-lead gasoline and 35 percent benzene makes the car fuel somewhat odd.
But it has some drawbacks. Even with the innovative air-brake, the drum brakes were not effective enough to stop driver Pierre Levegh, who was driving a Mercedes Benz 300 SLR in a race event, to become airborne. The ultra-lightweight bodywork's high magnesium content caused it to ignite in the ensuing fuel fire, causing significant injury and loss of life of 82 spectators including Levegh.
It was the highest fatality accident in the history of motor sport. Following the tragedy, Mercedes withdrew from competitive motor sport until the mid-1980s. Flame on indeed!