Junnie Crisostomo
April 8, 2010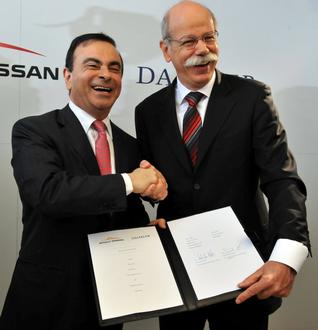 It's official! Daimler AG and Renault-Nissan has forged an alliance. This was announced yesterday in Brussels, Germany.
The partnership involves further development of the subcompact division that features, the Smart fortwo, Smart forfour and Renault's Twingo and other electric variants. This will enable the companies to expand the two ranges and utilize their technologies.
The Daimler and Renault-Nissan partnership will also co-develop future powertrains for passenger cars and light commercial vehicles. Renault-Nissan will adapt their future models to accommodate the new gasoline and diesel engines of Mercedes for their Infiniti models. Mercedes Vito on the other hand will have a diesel engine and a powertrain from Renault-Nissan.
Mercedes and Renault-Nissan will each receive 3.1% of shares from each other. The Mercedes Renault-Nissan partnership will also involve other key aspects of the business.
Mercedes Press Release:
The Renault-Nissan Alliance and Daimler AG today announced a broad strategic cooperation that will enable both groups to already realize benefits quickly from a range of concrete projects as well as sharing of best practices. The two groups also announced an equity exchange that will give the Renault-Nissan Alliance a 3.1% stake in Daimler and Daimler a 3.1% in Renault and a 3.1% stake in Nissan.
Dr. Dieter Zetsche, Chairman of Daimler AG and head of Mercedes-Benz Cars said,"Daimler and the Renault-Nissan Alliance are combining common interests to form a promising foundation for a successful, strategically sound cooperation that is based on a number of very concrete and attractive project cooperations. Our skills complement each other very well. Right away, we are strengthening our competitiveness in the small and compact car segment and are reducing our CO2 footprint – both on a long-term basis. We know that we can make brand-typical products based on shared architectures. The individual brand identities will remain unaffected."
According to Chairman and CEO of Renault-Nissan, Carlos Ghosn, "The Renault-Nissan alliance knows how to work successfully in collaborative partnerships, and this experience is extremely valuable in today's and even more tomorrow's global auto industry. This agreement will extend our strategic collaboration and create lasting value for the Renault-Nissan Alliance and Daimler as we work on broadening and strengthening our product offering, efficiently utilizing all available resources and developing the innovative technologies required in the coming decade."
I personally think that this partnership will surely benefit the three companies. It will make their products more reliable. That is how we consumers want our cars to be made, reliable. Utilizing what they can offer, making the best out of what they already have and developing a more advanced technology for their products. For me, the winners are the consumers and the automotive industry. I say, thanks to the three companies for making that leap and for making the industry flourish.