Kharl Prado
April 18, 2010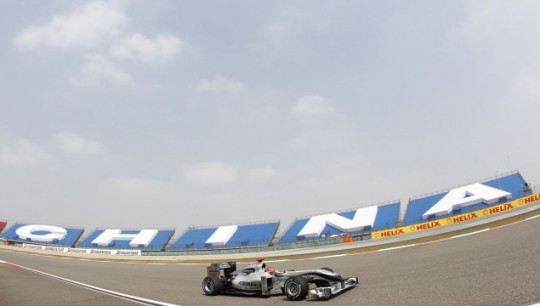 It was yet another disappointment for Michael Schumacher as he manages to finish tenth in the Chinese Grand Prix. His wingman, Nico Rosberg, kept his fight going to end up third on the podium. It was McLaren's duo, Jenson Button and Lewis Hamilton, who took 1-2 positions, with Button becoming the first driver to win a second time.
The race in Shanghai was brutal for both drivers and crews as they struggled to find the right balance between slicks and intermediates. The unpredictable rain forced teams to reschedule their pit stops in order to change between dry and wet-weather setups.
In the end, Schumacher was hit the worst by the weather as he failed to manage his intermediates on the wet track. His tyres were worn out almost immediately, forcing him to retire any attempt to challenge those in front.
Schumi had a very rough time with the intermediates, which limited his ability to push his car to the limit. He adds that this whole intermediate-tyre thing is new to him, very unlike what he's used to in the past. His last Formula One victory, ironically, was in Shanghai back in 2006, landing sad emotions on the seven-time world champion.