Armin Hodzic
April 19, 2010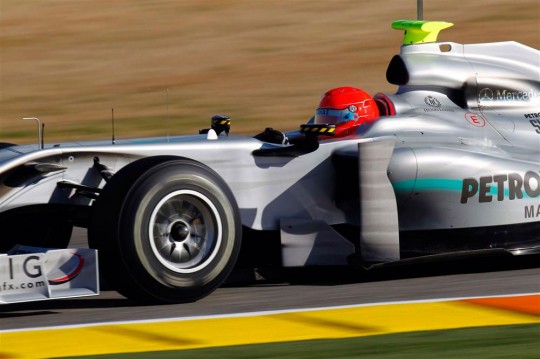 That's right, Michael Schumacher will be driving a new Mercedes in the Spanish Grand Prix next month. The Brackley based team is developing a newly-developed Mercedes W01 that will be on an entirely different chassis.
But for now this are all speculations since the new chassis have to undergo a new FIA crash test prior to its debut. If the team didn't make the cut, they will have to make it available from the second European race in Monte Carlo.
Team principal Ross Brawn did not issue any comments regarding Schumacher's next car in Spain, but admitted his baffle over the German's poor pace in Shanghai. If the 7-time world champion was on an ascending trend as compared to his teammate Nico Rosberg – meaning he was closing the gap on the 24-year old – the Chinese GP showed exactly the opposite.
Rosberg played down reports that his back-to-back podium appearances this season have made him leading driver of the Mercedes GP outfit, insisting that it will continue to be an open fight between him and Schumacher until the final round.
"It's definitely not the case. It's even between us. Of course I'm very, very happy with the way it's going for me, but we both get the same possibilities," said the German driver, who until now still knows how to drive.