Junnie Crisostomo
April 15, 2010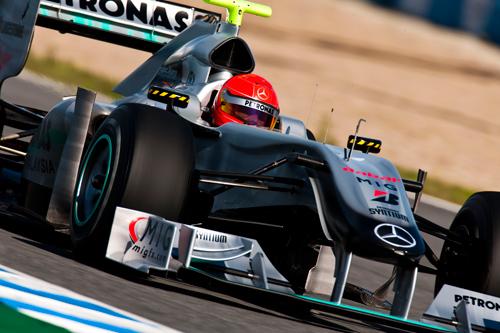 Mark Webber of Red Bull Racing said on a report that Mercedes GP is doing okay but it will be a three team battle of McLaren, Ferrari and his team, Red Bull. The three teams have shown consistency and reliability at the first 3 races.
"I think Ferrari and McLaren are very strong – clearly it's three teams already. Mercedes are doing okay but it's Ferrari, McLaren and Red Bull who are the most consistent at the moment in terms of pace."
The three teams that Webber mentioned have won a grand prix. Ferrari was able to grab P1 and P2 finish in Bahrain and also a P1-P2 finish for Red Bull Racing in Malaysia.
Red Bull Racing had their share of problems like a faulty spark plug and some damage at the wheel casing but still able to deliver the precious points in the last 3 races.
"We won the last three races of 2009 and we knew we had a good car coming into this year. We've been very fast in Bahrain, we should have won that, but for a spark plug problem and a wheel problem for Sebastian in Melbourne. It's just frustrating – we should have won the first two races," Christian Horner said, He claims that if not for those problems, the team could have performed better.
Meanwhile, at the Mercedes GP camp, Ross Brawn contradicted the reports that his team is losing its contention for this season. Michael Schumacher's comeback has given high hopes for the Mercedes fans but after his performance and mechanical problems, Schumi did not turn out to be the F1 King that we have known. He is 26 points away from his team mate Nico Rosberg. Rosberg is only 4 points away from the current leader Felipe Massa of Ferrari with 39 points and 2 points short of Red Bull Racing's strongest contender, Sebastian Vettel. So, how can Webber conclude the fate of Mercedes GP when in fact, Rosberg has a lead of 9 points against him?
I have to agree with Ross Brawn's comment "The title fight is far from decided." It really is too early to tell. With the new scoring system, a loss on a race weekend could be a disaster for any F1 team. We still have 16 heart pounding races to go.
Ross Brawn also mentioned "Nico is extremely fast and has run very good races, especially in Malaysia. But with every weekend Michael is gaining more and more momentum.
"Both will get good results when we give them a car that matches their talents. Then they will be right at the front," added Brawn.
I'm sure Brawn will deliver a proper car to his proper drivers. I believe he did his assignment and will have a strong campaign this weekend. Good luck Mercedes GP!