Kharl Prado
April 18, 2010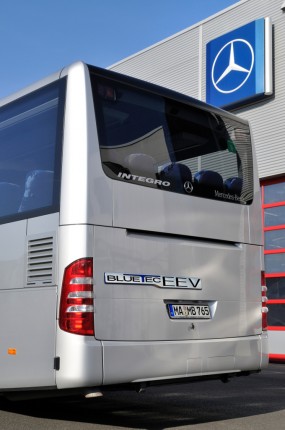 The race is on for zero emissions, and Mercedes-Benz is leading the pack in the bus segment. Taking things a step further from Euro 5 emission standard compliance, MB has now upgraded their buses with EEV technology.
EEV, which stands for Enhanced Environmentally Friendly Vehicle, dramatically improves a vehicle's emissions without having to add any additional exhaust filter. EEV technology effectively reduces particle emissions by as much as one-third, a giant leap from previous versions.
Past versions of the EEV featured SCR technology, which stands for Selective Catalytic Reduction, plus a diesel particulate filter in the exhaust line to cut down as much emissions as possible. The current EEV is able to cut down emissions even further through various advancements in engine design.
EEV is based solely on Mercedes-Benz's BlueTec 5 diesel technology. Merecedes-Benz upgraded various components of their design to effectively achieve lower emissions. Fuel injection was tweaked using new injector nozzles, piping and mounting systems.
With these improvements, you're looking at more cost-effective maintenance, longer service life, improved fuel economy and less curb weight which translates to improved overall handling and performance.
The new EEV technology is available in Mercedes-Benz buses with OM457 hLA/LA and 926 LA engines.